Home
Flood Damage in Ross-shire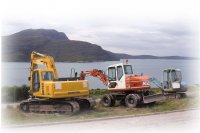 Welcome to Our Website
Do you require help with flood damage in Ross-shire or are you in need of excavator hire in Ross-shire and the surrounding area? Then look no further than RRAP (River Restoration and Protection).
We are based near Ullapool and work throughout the Ross-shire district, offering a wide range of exceptional services to all who require them. Call us today and talk to one of our helpful team to see what we can offer you.
Groundworks in Ross-shire
Whether you require expert river works in Ross-shire or flood protection in Ross-shire and beyond, our services are perfect for you. We offer a huge range of river works and other related services including:
Flood protection
Site clearance
Groundworks
Drainage
General haulage
Large skip hire
And much more. We also offer plant hire including wheeled and tracked excavators, ranging from 3 to 20 tons; as well as 20 and 25 ton dumpers.
We specialise in river works and have all the required equipment to carry out all aspects of the service - all domestic, commercial and contract work is welcomed! We are based in Ross-shire but can work throughout the local area including Sutherland.
Drainage in Ross-shire
We have been established since 1998, and during this time we have gone from strength to strength due to our exceptional services and great rates. Our reputation has grown also, a fact of which we are extremely proud, and we now consider ourselves the premier river works company in the area!
With qualified and professional tradesmen, holding the necessary licenses; you can be sure of a first rate service at all times - call RRAP for any river work you may require!
Contact Us
For more information, please call us on 01854 655362 or mobile 07714 760501 alternatively you can email us at rrap222@btinternet.com, or by using the online query form. We look forward to hearing from you!